Urgent Prayers Needed!
COVID-19 Is Confirmed In Our California State Prisons!
Why do we need urgent prayers covering our state prison facilities? Because COVID-19 has been confirmed in our California State Prisons.
You might not be able to see when a silent killer like COVID-19 strikes in our state prison facilities, but you can hear this epidemic coming.
Even though the individuals tested positive were correctional staff, as of March 20th, that does not mean our incarcerated are not infected. Receiving proper medical attention in prison is like stumbling upon a hidden treasure.
Ask a mother whose son has a three-centimeter mass in his breast with a family history of breast cancer…
Unless you've walked through our prisons personally, either through work, tours and/or detention, you have no idea how close the inmate population is to one another and how stacked on top of each other they are. This is how viral epidemics spread and kill. It's like living in a Petri dish.
I'm going to forewarn you, the below statement is repulsive and gross, but truth is empowerment.
This is how disgustingly close our incarcerated are: When they defecate in their cell toilets, or urinate for that matter, their cellmate's head is less than two feet from the toilet. And no, there is no wall or barrier between either.
No privacy. No protection…
Gross!!!
It's like one person starts to cough and/or sneeze. Then a prison guard walks down the hall coughing every step they take. An inmate on the phone in the hallway coughs all over the mouth piece and wipes his nose with the hand holding onto the phone.
Germs are everywhere!
Then another inmate a couple tiers down starts to cough and before you know it, everyone is infected and there's no escaping it in the wide-open space. Everyone is coughing, blowing their noses, spitting up phlegm. Petri dish of danger!
And if you think they're equipped with extra bars of soap and hand sanitizer, paper towels to wipe dry their hands and dispose of, you couldn't be further from the truth. They are only given limited bars of soap per month, and many of them use their bars of soap to wash their clothes.
Did you say wash their clothes?
Yes. If they have it laundered, most of the time they'll never receive it back. Stolen laundry is a hot-ticketed item.
Many prisoners wash their two state-prison-issued clothing similar to Little House on the Prairie.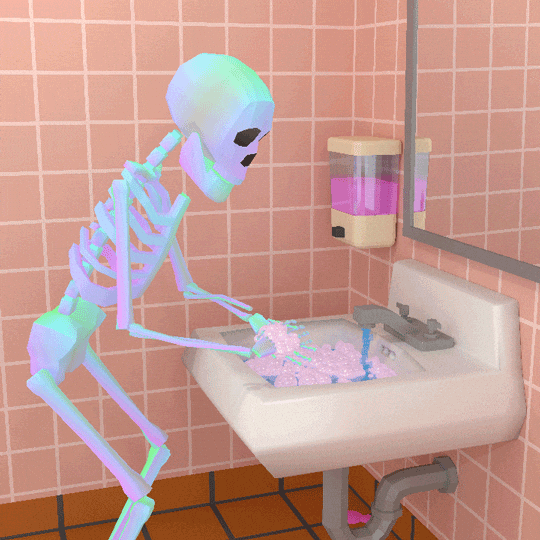 There is absolutely no way to participate in social distancing in our state prisons. They are literally on top of one another.
When they eat, they're like a can of sardines packed together. They share trays AND food. They shower together without any separation. And with being in lockdown, it allows the contamination to spread through open air and tight spaces.
When they're in lockdown, it does not keep them safe. It's a cesspool of toxins.
You CANNOT ISOLATE over 2.3 million incarcerated beloveds from one another to contain and keep this virus from spreading, much less have adequate medical teams and/or facilities to treat those who will inevitably become infected.
Please pray for our prison population; they're someone's son, like mine…
Until next time…