…Will Always Reach Her Destination!
There's something in the air or it's that time of year again. Why all this hustle and bustle in early November? Maybe it's a sense of entitlement or a lack of social etiquette? People are more rude, and they've become rather shrewd while loving to feud!

As I was running late to meet with an old friend for a dinner date, I could barely get halfway across the street before these trick-or-treat peeps decided to greet! These special peeps wanted to receive their treats that were more than just sweet; drug candy! Nothing was going to get in their way.
Always leave space for grace…

All I can say, there better be a day that I will get to vaycay. Maybe it's time to wrap up the beach and put it underneath the tree and just be!

All I kept thinking to myself was: "Who let the animals out…"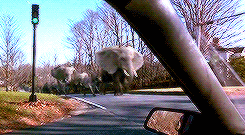 As I wrapped my mind around this window of chaos and decided to continue across, my cell phone alerted me to a text message. It was my girlfriend canceling one minute before we were supposed to meet up for dinner.

Come on, one minute beforehand? What, you couldn't have called thirty minutes beforehand when you were supposed to be in the car driving?

And then to text? This technological luxury has become an "out" for absolutely no accountability. What's next, automatic replies?
Hmmm…

I got really angst because this reminded me of this girlfriend that had a tendency to do this repeatedly. One time she called and told me she was deathly ill and had to cancel, so I continued onto my day without much thought.
Then lo and behold, sitting at an intersection, I happened to look over and saw her driving a brand-new vehicle that everyone "but me" told her not to buy. In my heart, she is a big girl and it's her life, so she can decide whether or not to splurge and buy herself a gift. I can only offer my opinion when asked.

Let me share, she almost had a stroke trying to run from me at that stoplight. I will forever laugh at how shame couldn't get her from zero to sixty fast enough! Busted!

Something is wrong when we're too ashamed or embarrassed to share our lives, gifts and blessings. It took her three weeks before she reached out after being busted. Friendships are supposed to celebrate the good times while supporting and helping one another shoulder the tough times, right?
I mean, I'll jump in the passenger seat and get chauffeured around in your fancy-pants car any time; why be ashamed? No comparison or competition here, only celebration. I'm a beloved who's had it all and lost it all.
I don't want that kind of relationship with ANYONE. These comparisons and competitions are robbing us of beautiful friendships and lives full of peace and joy as we celebrate each other. Especially rejoicing with one another the blessings of God!
I don't want the anxiety and anger that comes from dishonesty and guilt. If I have to prove myself to you, then that's a relationship that is filled with deceit and betrayal. Where's the freedom in love in that kind of arrangement?

The Bible exhorts us to "let your gentleness be evident to all…" (Philippians 4:5).
When we sojourn in thriving relationships, we're not going to be walking in opposite directions. We're going to be traversing in the same direction. If we are not, then how are we supposed to hear each other and engage in life through intimacy in listening and sharing? Communication is vital to intimacy.

In today's society, social media presence and "likes" seem to define our time, worth and value. God forbid, we should put our phones down for a couple hours! Are those hundreds of friends there when you're sick? Do they really know what's going on inside your bleeding heart that's on the other side of the screen?
Are you freakin' stinkin' kidding me?

Isn't that how we are with God? We just call upon Him when times are tough and then when that trial period concludes, we don't think much about Him until the next catastrophe rolls in. Talk about a marriage of convenience! Prayer is not a flippant quickie; it's a privilege!
The woman who walks with God will ALWAYS reach her destination! She doesn't walk away from Him once her needs have been met. Since she regularly walks with her Lord, she knows God's deep mercies and tender heart. In fact, she mirrors His attributes because she walks so closely with Him each step of the way. 
God isn't just a flippant prayer-for-relief line. God is our creator, the lover of our souls, the one who calls us His masterpieces and pursues us as His precious treasured daughters.
Life with God is more than a box of chocolates. It's a journey where only One gets to carry the key to our lockets. We can radiate His Great Love and peace sojourning towards our destination until we walk through those pearly gates.

With all the beautiful festivities ahead, maybe we can emulate our Lord by spending time supporting and encouraging one another as we celebrate each other with grace and gratitude. We're all trying to reach the finish line gracefully!
Until next time…

Thank You For Being Beautiful You!