What's More Painful,
Dilapidated Conditions or Abominable Banter?
Death and decay reek. The woman draws in closer. She obviously feels her exchange of banter is needed. A breath mint might just grant her!
Between the abominable breath causing imminent death, who needs to worry about dilapidated conditions or suspicions.
Oh, I hear her all right. Mix a Xanax with her cheese, please!
Silence is obviously not a known science…
Oh wait, isn't this where my fav Achmed comes to the rescue?
After all, grief has a way of screaming…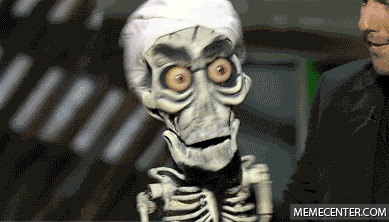 The pearls and pitfalls of the cover girl. The tendency to turn my pain into another's gain. The sounds that hit the ground take more than grace to run this race with a bitter sister from another mother.
Gotta love us women at times when we turn into more than extra-grace required children.
This beloved means well, but her breath isn't my only bone. I have chosen to sit in this waiting room alone. I need space for this race, unoccupied by this banter which is nothing but epic ranter.
We're Never Alone With Jesus
I don't know about you, but I need peace to see every crease of my soul. That's why my head is down in my Bible so I won't dread what's ahead. I am choosing to feel every single pain; physically, emotionally, financially and spiritually. 
Let me cry, as foreign as that may be. Let me grieve, which is foreign to me. Let me just be!
I'm 51 percent introvert and 49 percent extrovert. Many disagree, but do they really know me? I require space so I don't disgrace!
Try being a chaplain; it's a long walk to talk…
Have you ever wondered why waiting rooms tend to be colder than ice? And I'm being nice…
Time stands still. Life requires more than a will. Love requires being filled from above.
Waiting rooms contain inevitable frustration and tidal waves of depression.
My new friend goes for the jugular, "So… do you still feel God loves you? All that time you spend reading your Bible, what good is it now?"

Love from above…
Pause… one, two, three, four… before reacting. My cast-iron horns were fully emerged and the flaming arrows were deployed to surge.
Space occupied by the enemy who comes solely to kill, steal and destroy has no place here. Then again, maybe her breath mirrors the death inside my own heart.
The lies of the enemy penetrate my heart, but my shield fends off the affliction. I'm left feeling naked instead. My soul will be exposed if I don't stay controlled and posed.
So my venom leads me down to the ER room, emergency relief room, to pray.

My mind ventures back and hangs onto what the amazing Ann Voskamp spoke earlier to my heart:
Is Jesus merely useful to you — or is He ultimately beautiful to you?

When Jesus is useful to me, I'm looking for a genie in a bottle, to give me the life I want.

When Jesus is beautiful to me, I'm looking for His face in my life, to give Him the love I feel.

When Jesus is merely useful to me, I want Him to move my world.
So herein lies my convicted heart. That's the beauty of the cross, there's no shame in our game, judgment or condemnation. Instead, there is love and conviction in this affliction.
This consoles my soul because I know the decay in this hallway needs removed today. I choose to see my beautiful Lord's face in my space.
My heart remembers Lamentations 3:22-26:
22 Because of the Lord's great love we are not consumed,
for his compassions never fail.
23 They are new every morning;
great is your faithfulness.
24 I say to myself, "The Lord is my portion;
therefore I will wait for him.
25 The Lord is good to those whose hope is in him,
to the one who seeks him;
26 it is good to wait quietly
for the salvation of the Lord.
No wonder the Lord tells us to be ready in and out of season because this season of frying my heart crisp burns through all the lying. The enemy may be able to burn our tender hearts, but he won't take us down with his assaulting darts.
World War III is fully equipped with grace and that's key.
Waiting rooms are hard and filled with refinement opportunities; whether it's medical, financial, legal or relational. When conditions look dilapidated and our lives and hearts become castrated due to these afflictions, it helps to remember the words of John Wesley:
One of the greatest evidences of God's love to those that love him is, to send them afflictions, with grace to bear them.
My heart and faith is constantly tested during such periods in being weak and scared. The one thing I cleave to is that God loves me enough to take note of every tear I shed in the waiting room. 
Psalm 56:8 says, "You keep track of all my sorrows. You have collected all my tears in your bottle. You have recorded each one in your book."
Leaving a trail of tears as we sojourn down a path of heartache is inevitable this side of heaven, so we would bode well to keep the depth of our relationship with the Lord constant.
Always in my heart…

Until next time…
Thank You For Being Beautiful You!