And Your Secret Sauce Is…
"Enthusiasm Is A Supernatural Serenity"
Henry David Thoreau
I walked into the high-rise building wearing my superhero attitude and high-heeled boots relishing sanguine expectations. "Enthusiasm can help you find the new doors, but it takes passion to open them. If you have a strong purpose in life, you don't have to be pushed. Your passion will drive you there."
Thank you, Roy T. Bennett, for blessing me with words to live by!

Warning: I'm a contagious carrier of enthusiasm!
The panel started taking their seats as I was ushered to mine, center stage. Sitting before me in an interrogation manner was a panel of 13 peers. With laser-beam eyes penetrating straight through my heart and into my soul, I felt exposed and naked. Talk about uncomfortable. And I had nowhere to run and hide.
I had this overwhelming sense of dread. Similar to what the adulterous woman in the Bible must have felt who was literally caught in the act. Here she was being carried away and rushed towards judgment and death without the other participating party. She was in shock and thrown forcibly to the ground; bound to meet her demise being stoned to death by her peers (John 8:1-11).

Fear is dreadful!
I was surrounded by 13 chairs (yes, lucky 13) in a semi-circle manner. A few members of the panel were even outside of my peripheral vision.
Rule Number 1, always know where your enemy is.

My eyes quickly scanned the room for an emergency exit. That is one of the first things you're taught in the academy. Naturally, this exit was too far to flee quickly.
Oh, vanity! That deceitful empowerment I get when wearing those high-heeled boots…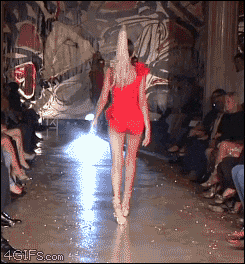 A graceful exit?
NOT…

More like a bruised ego!

As I took a deep breath, my mind inquires how and why I'm here? I don't need a job. Lord knows, I need sleep! Maybe a few donors and monetary partners for the nonprofit's setup and homeless needs, but…
Suddenly, loud proclamations interrupt…

I'm creating an extraordinary life to make a difference in the world. 
The sweat from my pits only enhances my nervous ditz as I try and take control of a heart rate that begins to frustrate!
"Live your truth. Express your love. Share your enthusiasm. Take action towards your dreams. Walk your talk. Dance and sing to your music. Embrace your blessings. Make today worth remembering."
Thank you, Steve Maraboli.
Be the Light!

I looked up and forgot for a magical moment, you know those unforced rhythms of grace, that I was being scrutinized and examined by my peers.

Their silence was eerie. You could literally hear a pin drop.

Due to the lengthy silence, my heart had given way to shallow idling and a cottonmouth that would take a big-rig mechanic's pliers to pry open.
They just sat there comatose, dead silent, while offering nothing but suggesting a super-size distress signal…
Mayday! Mayday!
Between their laser-beam eyes looking up and down, a few nods of affirmation and a whole lot of rejection rolls of the eyes sizing me up, nothing was said.

Can I hear awkward?
Then it happened, after 4.33 bloody minutes (their timer) of the torturing silence, their blackout awakened. Out of nowhere, a helium-sucking voice muttered, "What's your secret sauce?"

I cracked…
I cursed…
I tinkled…
I lost it!

When I say "I cracked," I am talking about an uncontrolled heckling mirroring a laughing hyena.

My children can vouch how I've had to hide under a table or two due to the uncontrolled release of toxins and stressors conducted through laughing. They may laugh, but it's more of an embarrassment at my cost.
With my cheeks flaming with humiliation, the burn intensified from their piercing eyes and disgusted mannerisms. They found absolutely no humor in the aforementioned.

What's a girl supposed to do now?

Think…
What is my focus?
Not happening right now.
What is my passion? My gifts?
Hot ooey-gooey molasses of shame coated my royal veins as thousands upon thousands of unwanted adornment, beads of sweat, bounced off and found their way dripping down my face.
Now that's attractive!
Forget the pits of the ditz!

This river of sweat marshaled my anxiety right into hyperventilation.
Calling all angel armies to the rescue!

I'm trying to remember that I'm creating an extraordinary life to make a difference in the world. And that means it's all about the journey, not the end result!

What's my secret sauce?
My gift of enthusiasm is what breathes life and energy into my weary bones to accomplish great things that will glorify my Lord.

So this means when we have enthusiasm, the yoke carried from the weight of fear, rejection and doubt loses its power over our lives (Matthew 11:29-30), right?
I want to master the unforced rhythms of grace.
Live, Laugh, Love
According to Merriam-Webster, the definition of secret sauce is "an element, quality, ability, or practice that makes something or someone successful or distinctive."
Since my gift of "enthusiasm" fits the bill, remembering that enthusiasm comes from two Greek words: en + theos is God, which is literally God within us, but theos also means inspired, God-inspired.
When we put them together, it relates to God's enthusiasm, the secret sauce, needed to create an extraordinary life that makes a difference.
That's called a Legacy of Love!
Until next time…

Thank You For Being Beautiful You!